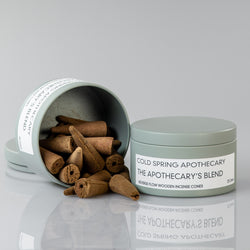 The Apothecary's Blend Incense
Limited Edition Fragrance!

FRAGRANCE NOTES:
Tops notes: Ginger, Geranium
Middle notes: Rose, Sandalwood, Redwood and Tonka 

Base notes: Cedarwood, Frankincense and Oud
INGREDIENTS:
Our incense is made with charcoal cones and the finest of fragrances. These large charcoal cones are reverse flow, meaning the smoke comes from the bottom and makes for a beautiful, aromatic burn.

DIRECTIONS:

Place incense cone in a cone burner or in a bowl burner on a
bed of sand or natural ash with point facing up. Light the tip of
the incense cone once tip glows red, gently extinguish the flame.

NEVER LEAVE INCENSE UNATTENDED!

Burning Tips: If the cone goes out, it may not be getting enough oxygen to keep it burning. This could happen if your burner is too small or if the area is too cold, try warming area prior to lighting cone. Always store your cones in a cool dry place. If they pick up too much moisture they will not burn properly. 
Includes 20 Large Reverse Flow Wood Cones