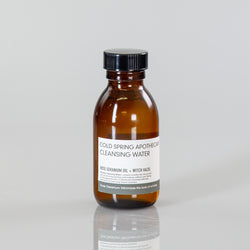 Rose Micellar Cleansing Water
DESCRIPTION
ROSE MALLOW - RENEW LINE
Pink Hibiscus (mallow family) - known to increase skin elasticity by inhibiting the activity of the enzyme elastase the nemesis to the precious elastin in the skin. Hibiscus actively tones the skin for noticeably firm and lifted skin. Also know to help cell turnover with its gentle exfoliating effects.
Rose Geranium - minimize the look of wrinkles because it tightens facial skin and slows down the effects of aging.
Micellar Water - contains micelles that cling to dirt and oil, removing buildup and makeup without over drying or damaging the skin. Natural and extremely effective alternative to harsh soap based cleansers.
INGREDIENTS
Water (Aqua), Witch Hazel Water (Hamamelis Virginiana), Glycerin, Gluconolacctone, Sodium Benzoate, Medium Chain Triglycerides (Capric/Caprylic Triglycerides), Hibiscus Powder, Rose Powder, Decyl Glucoside, Lauryl Glucoside, Polysorbate 20, Alcohol, CSA Essential Oil Blend
DIRECTIONS
SHAKE WELL: Apply to cotton pad and wipe face. Rinse with warm water and dry. Follow with toner and facial oil.